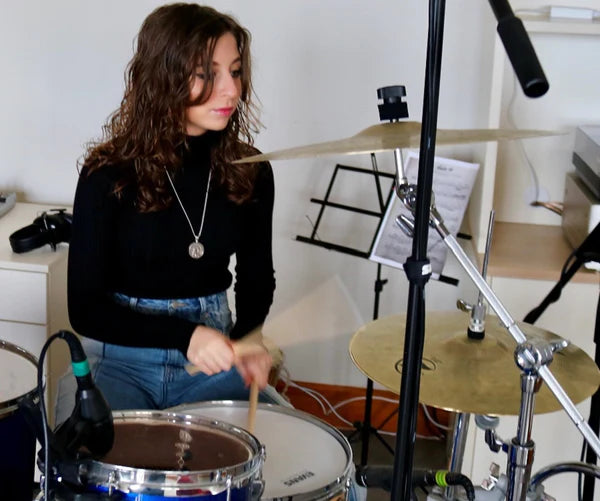 Guitar Lessons
Learn how to play drums. All styles and genres - from Rock to Pop, Jazz to Blues. Beginner to intermediate. We come to you.
Your drum teacher Siena is a qualified drum teacher and performer. She has completed AMEB 8th Grade Rock Drums and a Diploma of Music Performance in Rock Drums from Rock School London (RSL). She welcomes all students who would like to learn drums. Her teaching style is modern contemporary with no pressure or expectation to undertake theory or exams. However, if you wish to pursue AMEB exams, she would be more than happy to guide you through the syllabus. Siena tailors her lessons for each individual students needs. You need to have your own drum kit at home if you wish to take lessons from her. Boulevard Music is working towards establishing a full drum lesson room at our music school in Ivanhoe East in the future.
FAQs
Where do you hold lessons?

Drum lessons are held at our school in Ivanhoe
East or online
Do I need to have my own instrument?

Yes, you need to have your own drum kit in order to take lessons. This is because students need to practice in between lessons.
Can parents sit in and watch?

Yes! Parents are welcome to sit in on lessons. However, parents must respect the student and teacher during the lesson and not interrupt.
Do you have Working With Children Checks?

Yes, all our teachers have current Working With Children Checks. You may request the teacher to produce their WWC card.
When are lessons held?

3:30 to 6:00pm Mon – Fri and on the weekends, Sat 10:00am to 1:00pm and Sun 12:00 midday to 3:00pm.